Stainless Steel Doctor Blade, Item SL-35 Doctor Blade
Description


Made using 4028MO stainless steel, the SL-35 doctor blade offers outstanding corrosion resistance and anti-rust performance when compared to the SL-45 model, however, its abrasion resistance falls short of the SL-45 blade. Therefore, this doctor blade is suitable for occasions requiring high corrosion resistance and minimal requirements for abrasion resistance.

The SL-35 doctor blade features a delicate microstructure and dense grain distribution to ensure a slow and even wear, which prevents the ink from becoming polluted. The SL-35 doctor blade is suitable for ink with a high pH content, such as water based ink and coatings.

Parameter
4028MOelement content

| | | | | | | |
| --- | --- | --- | --- | --- | --- | --- |
| C | Mn | Si | P | S | Cr | Mo |
| 0.36 | 0.45 | 0.40 | 0.030 | 0.020 | 13.50 | 1.00 |
Tensile strength: 1700-1900 N/mm2
Hardness: 560-580HV
Linearity: 0.15mm/1m
Advantages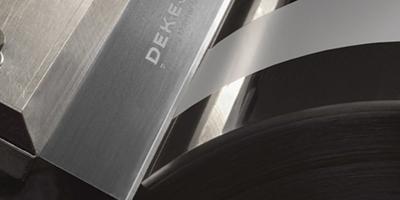 A heat treatment process prevents wear and oxidation of the blade edge.
Less granules resulting from blade wear at high speed printing reduces ink pollution levels.
Compared to a standard doctor blade, the SL-35 is made of stainless steel for a better oxidation and corrosion resistance and a longer lifespan.
The SL-35 stainless steel doctor blade is less expensive.
Type
| | | | | |
| --- | --- | --- | --- | --- |
| Size(width) | Maximum speed | Thickness(base material) | Package | |
| 10mm | 250m/min | 0.152-0.203mm | 100m/box | |
| 30mm | 250m/min | 0.152-0.203mm | 100m/box | |
| 40mm | 250m/min | 0.152-0.203mm | 100m/box | |
| 50mm | 250m/min | 0.152-0.203mm | 100m/box | |
| 60mm | 250m/min | 0.152-0.203mm | 100m/box | |
Note: The above data is standard sizes only. We can customize blade sizes according to customer requirements.
Application
Printing machine: HP, Heidelberg, Koenig&Bauer AG, Komori, Beiren, Manroland, RMGT, etc.
Coating machine: Joinfun, Graco, SATA, Anest Iwata, Hongda, etc.
Rotary printing machine: Dingli, Lisheng, Zhishang, Hengfan, Nashuo, etc.
We are manufacturing and selling doctor blades for flexographic printing, gravure printing, pad printing and screen printing, we are a leading company in production and sales doctor blades for printing industry and coating businesses, over decades years, offering high quality doctor blades for various customers in printing industry, we have plastic, stainless steel, high carbon steel and coated blades.
Packaging box

1. Packaging box uses ABS plastic featuring environmental protection, toughness and wear and corrosion resistance.
2. Good-looking packaging box with anti-counterfeiting label.
3. There is no need to open the box, so time is saved.